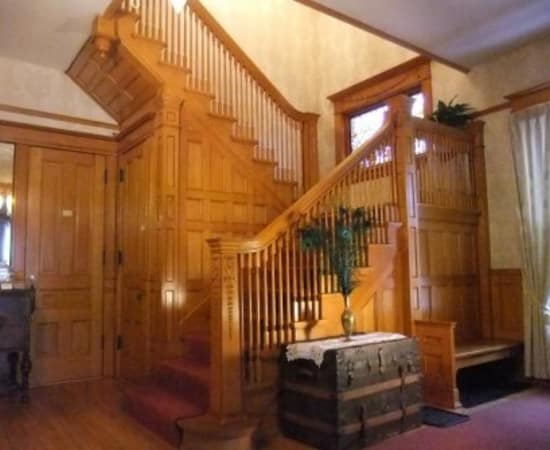 Business Is Now Closed
Victorian Dreams Coffee Mugs on SALE now ~ $15 each (includes shipping). Go to our Facebook page for additional information on available mugs and ordering.
It is with a very heavy heart that we are writing to inform you that Victorian Dreams B and B permanently closed for business on December 1st, 2019. The two houses are being sold as private residences and will not be reopened as a Bed & Breakfast.

The travel industry has changed over the last few years and it has become increasingly hard to compete with the OTA's (Expedia, Hotels.com, Booking.com, etc.) for direct bookings to our Bed & Breakfast. It is also hard to compete with Airbnb when they don't have to follow the same rules (or any rules) and regulations that we adhere to as a licensed B & B. In the past few years, Google has also changed its search algorithms making it harder to drive traffic to our own website. Because of these and other reasons, we have found it necessary to close the business. Our website will be coming down soon, but our Facebook page will be up and running for a while.

We have enjoyed meeting you all, hearing your stories and catching up with you when you return for a 2nd, 3 rd or 20th visit. Thank you for allowing us to be a part of your anniversary, birthday and other special getaways. We loved being innkeepers and are sad to close this chapter in our lives.

Thanks again for everything!
John & Cindy Stevens
Relax in Comfort
Victorian Dreams Bed and Breakfast consists of two 1890's Victorian Homes with a driveway separating the two homes. The main house features three of our seven guest suites, a large, wrap around porch, two guest parlors, a wood-burning fireplace, and a baby grand piano.
Both houses offer ample amenities including:
A king/queen size bed and private bathroom
Two person Whirlpool or claw foot tubs
Keurig coffee maker, small fridge and microwave
Luxurious robes
WiFi
A TV with DVD player
A wet bar area (2nd house only)
Breakfast table and chairs (5 of the suites)
Gas Fireplaces (2nd house only)
Central Air Conditioning (both houses)
Check out our video below "A Day in the Life of an Innkeeper" filmed by the GMVCB during Tourism Takeover Week.